Florida's Housing Market: July 2022 Overview
July Numbers Are In!
July numbers are in. Florida's housing Market July 2022 overview, reported by The FloridaRealtors® shows some interesting stats. Overall, there are higher median prices, a rise in the listings of single-family homes, and some signs of easing inventory supply compared to this time last year. Yet, they did note that increasing inflation and mortgage rates are indeed affecting sales.
Sales of single-family homes statewide is down 22.9% compared to July last year and condo/townhouses are also down 30.7%. However, Florida Realtors Chief Economist, Dr. Brad O'Connor said, "It's almost not fair to compare 2022 sales numbers to those from over a year ago because 2021 was such a uniquely good year for the housing market, with the 30-year mortgage rate hovering near 3% the entire year." He notes that if the higher mortgage rates and rising prices were not as they currently are that he believes the buyer demand would be booming right now here in the Sunshine State. Regarding the active listings – Florida Realtors® notes they are rising year after year and expected to continue. You can review the full article here with links to the market data. The following infographics will give you a visual in particular for both Orange and Seminole Counties.
Orange County July 2022 Summary
Seminole County July 2022 Summary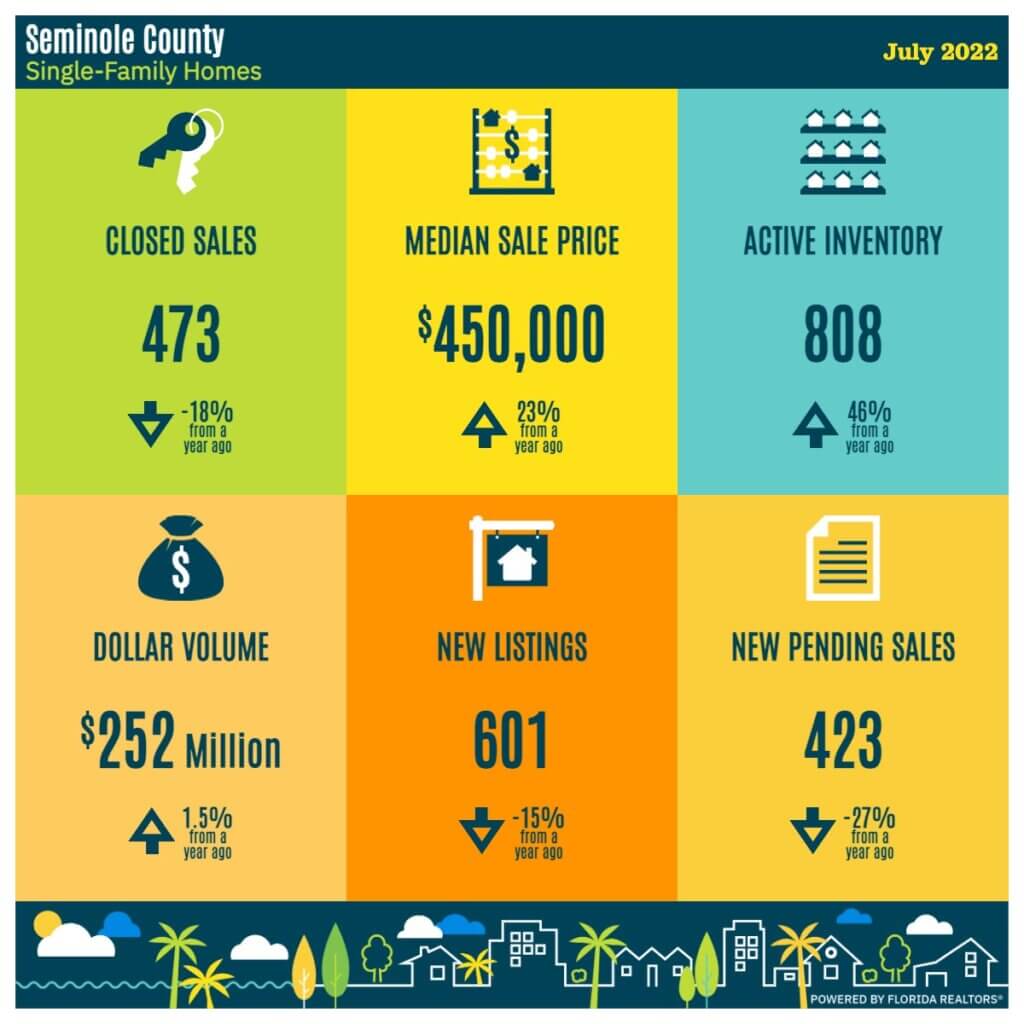 What does this mean for me?
What does this mean to you personally? Well, if you are considering buying or selling, having a conversation with a professional Realtor® would be your first step. That way your unique situation can be reviewed so that you can make the best possible decisions. Market data is important of course, but how it affects each individual situation and needs is more important than just knowing the numbers. If you are wondering what the best options are for you, please do not hesitate to reach out to our team so we can have a conversation that puts you in a place of comfort while deciding what to do.
Always your friend and Realtor®,
Amber
SOURCE & Credit to Florida Realtors®
Follow us on Facebook and Instagram so you know when we have some updates to keep you informed. See you there!